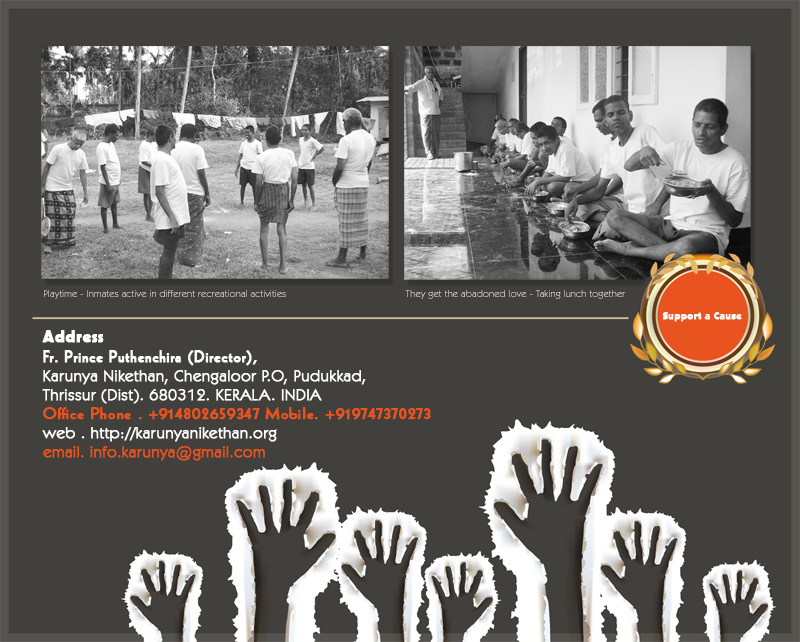 The Karunya Charitable Society (Reg:914/2002) at Chengaloor near Pudukkad, Thrissur District was registered in 2002 with the intention of extending Care and services to the mentally challenged who are unwanted, unsupported and alienated from the society. This is a sincere attempt of zealous young men of this locality. The idea was generated from the gatherings between the young men in the evenings to share their thoughts. When shared to all an initiative to act for the needy in the society was emerged. First attempt was to take patients to mental health centers for medical consultation and provide medicines while, keeping them in their own homes.
The partially completed house now shelters 20 inmates and 2 volunteers. The aim of Karunya Nikethan is to make a home, which can accommodate the inmates back in to the mainstream of the society where they can stand on their own, to find their own livelihood and dignity.
Fr. Prince Puthenchira has been appointed as the Director and in charge of Karunya Nikethan, Br. Martin assists him. Daily Holy Mass for inmates was started at the Chapel. Fr. Prince is filled with energy and enthusiasm and we believe, with his leadership we can make a better house.
Organizational Structure
P
resident                  :
Vincent P.A
Secretary                  :
Bijoy Anto
Treasurer                :

Martin P
A
Vice President        :
Freejo Francis
Joint secretary       :
Joseph V P
Councilors              :
Seby V P
Councilor                :
Shinto T I
At present limited space is provided to inmates and we wish to build more rooms & amenities for the inmates. It requires the support from well wishers & kind hearted people. We expect your support & sincere cooperation to uplift the downtrodden people in the society.
2.14 acres of land has been purchased in the name of Karunya Nikethan for further activities and expansion. Presently 3200sq. feet of building has been constructed & rest is in anvil.
Present requirement
As there is no proper room to enter the backside of the building, we would like to aquire a small plot adjacent to the present plot extending 38 cents, which will be very useful in future. The estimated cost is approximately Rs. 1.5million. We need to find the source from all the kind hearted and generous people who has always helped us in our needs.